Dear Parents and Carers,
Considering we have only been at Nursery for three days this week we have managed to squeeze in an incredible amount of of learning.
Highlights of the week:
Today we observed a minutes silence in the Nursery, we explained that we were doing it to honour heros past and present and we are so proud of each and every child that was here today.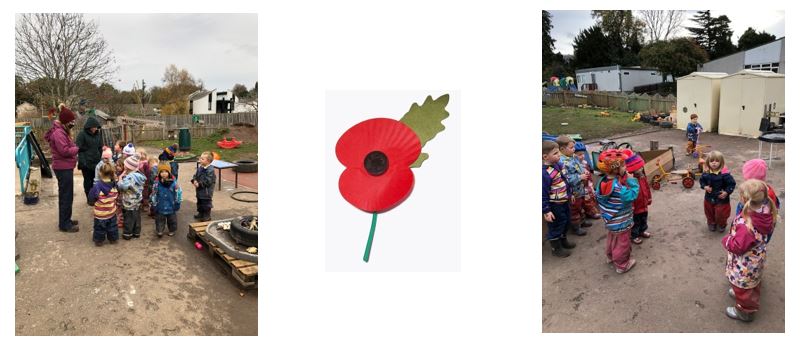 The children have been making Prickly friends out of clay. They have been praticing their fine motor skills – rolling the clay into a ball, squeezing it into a sausage, pinching it's nose and pushing in it's matchstick spikes.
We have had more fun on the farm this week and we have been really surprised at how tidy their farm has been.
The children have been playing games this week and have been focussing on taking turns and working together.
We have introduced a new set of tin drums to the garden and it's been fantastic watching the children making music and dancing together.
Another busy baking week has seen the children making chocolate chip cookies, cheese straws, cheese scones and some made the initial letter of their name out of salt dough.
Snacks next week:
| | | |
| --- | --- | --- |
| | Morning snack | Afternoon snack |
| Monday | Bread sticks a soft cheese | Selection of fresh fruit |
| Tuesday | Toast with selection of toppings | Selection of fresh fruit |
| Wednesday | Crackers and cheese | Selection of fresh fruit |
| Thursday | Angel delight/jelly/custard | Selection of fresh fruit |
| Friday | Selection of fresh fruit | |
Fresh fruit and vegetable sticks are always available with morning snack.
Other news:
Dropping off
If you are running a little late in the morning, after the bell rings at 9am, please could you take your child the main school office and they will bring your child to the nursery.
Illness
Aware of the rise in Covid cases nationally, we are continuing to be vigilant to keep everyone in our learning community safe. If your child shows any symptoms of being unwell, please do keep them at home. If anyone in the family shows symptoms of Covid-19, please follow the NHS Scotland guidance.  Thank you for working with us to keep our school community safe.
We would be grateful if you could call the school if your child will be absent for any reason.
Have a lovely weekend
Kind regards,
The Nursery Team