What are we doing to make our school 'the best it can be'?
The main achievements of our school over the last 12 months can be found in our "Standards and Quality Report": SIR 18-19
In summary, our key successes over the last school year were:
Creation of a new, comprehensive Health & Wellbeing programme that ensures progression of learning from Early through to Second level and has the wellbeing indicators at the forefront of delivery.
Creation of a new Maths and Numeracy problem-solving resource bank that is a collation of rich problem-solving tasks to be used to support children's ongoing mathematical thinking.
Teacher leadership model that has enabled teaching staff to take on a school development priority, providing leadership of learning for staff and improving outcomes for learners.
In our nursery, the curriculum framework is based firmly on play and active learning. It is stimulating and engaging and offers all children enjoyment.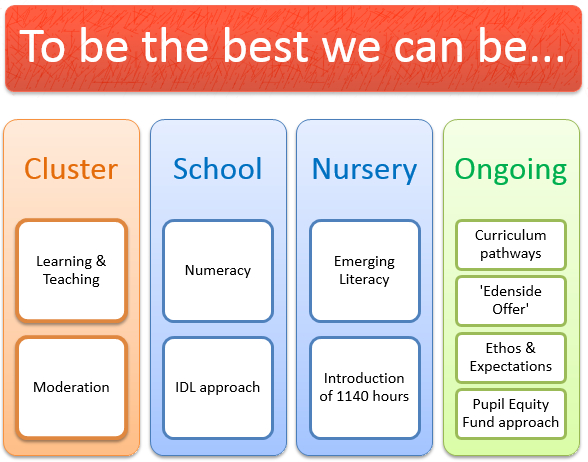 The main areas for ongoing development over the current school year are:
For Primary 2 – 7…
Further develop our Numeracy and Mathematics curriculum by introducing a mastery approach with a specific focus on 'concrete, pictorial, abstract' learning.
Continue to develop our new thematic programme of interdisciplinary learning.
For nursery and Primary 1…
Introduce increased provision (1140 hours) as part of Scottish Government pledge
Introduce an 'emerging literacy' approach as part of the Scottish Borders Council plan.