As a slight change to normal, this bulletin is for the whole school, nursery included. Whilst not everything is for everyone, hopefully there's something for someone!
Curriculum overviews (P1-7)
Please take a moment to look over the attached curriculum overview for your child's class, for this term. These provide an outline of the core learning in class and related 'home learning' supports for the coming weeks.
Nursery news
It's been a very speedy three day week.  The children were happy to see each other after our long weekend, and have particularly enjoyed their Secret Garden visits, learning time in the cabin, playing with the wild animals and making tails of their own, whether they were a unicorn, a horse, a pig or a bunny.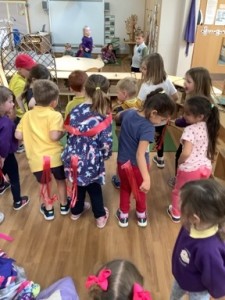 Getting out and about
This term's BIG question (What's so great about Kelso?) is providing so many opportunities for our classes to get out and and see the sites. Please continue to check you emails for notifications about walks in our local area. Any offers of help on these are welcome.
Letting you know about your child's progress
As we come to the end of another school year, we will be updating you on how your child is getting on with their learning. Out-with the class Facebook updates, termly curriculum overviews and school weekly bulletins, this term will see you receiving an end-of-year academic report, a teacher consultation and a link to your child's 'Showbie' portal. All this information combined helps you get a sense of what and how your child is learning and we hope it is helpful.
P7 Residential
This week saw our P7 pupils 'get away from it all' for a 3 day residential adventure. This is the first time in over 2 years and it has been so good to do this 'right of passage' event again. Joined by all the partner P7s from our local schools, the group stayed at Dukeswood House, Hexham and enjoyed a variety of outdoor challenges, social time and plenty of food. A wee group of 'day trippers' joined their peers on the Thursday, ensuring they were able to experience the adventure. A special thanks to Mr Wood, Miss Davidson, Mrs Little and Mr Sutton for giving up their personal time to stay with our children for the 3 days and to Miss McCombie for escorting the day trippers.
Here's to many more P7 residentials in the years to come.
Dates for your diary
Wednesday 25th May = P1 and P7 group photographs (new date)
Monday 30th May = School closed. Cheviot schools holiday
Friday 27th May = End-of-year reports home to families
Wednesday 1st June = Parent consultations – details to follow
Thursday 2nd June = Parent consultations – details to follow
Friday 3rd June = School closed. Queen's Platinum Jubilee weekend
Monday 6th June = P1 and P7 group photographs (cancelled)
Wednesday 15th June = Sports Day – details to follow
Tuesday 21st – Thursday 23rd June = P7 3 day visit to Kelso High School
Wednesday 22nd June = 'Meet my new teacher' – details to follow
Monday 27th June = P7 Graduation (PM) – details to follow
Thursday 30th June = Last day of term