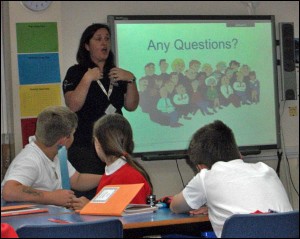 Here are some useful links to games and activities for pupils
A page for teachers to share specific tasks and resources.
Our annual Health & Wellbeing survey that we ask our children to complete.
Dance Mat Typing Level 1 Stage 1
Learn how to type on the keyboard using your fingers correctly
Doorway Online
Interactive and accessible Learning Activities
BBC Bitesize
Literacy, Mathmatics and Science games.
Primary Homework Help
Hundreds of pages of easy to read information and facts on many homework topics
Enriching Maths
Various Maths resources and games for pupils of all ages.
BBC Numeracy Website
Numeracy games for pupils
Mathletics
Numeracy games for P5 pupils
Sumdog
Numeracy games for pupils
Hit the Button
Highly recommended for number bonds and any number revision.
Numeracy Games
Links to Numeracy Games
Learn Your Tables
Help with learning Times Tables
A quick link to Code Club content.